Benefits of Infrastructure Monitoring
Analytics Reporting
Infrastructure monitoring relies heavily on metrics that provide insight into device and application performance within your network.
Improved Security
Infrastructure monitoring gives you a detailed understanding of your IT infrastructure, allowing you to notice suspicious activity including odd traffic spikes or strange devices.
Cost Effective
Your organization can find and address issues well in advance, stopping outages that could cost significant investment to repair.
Future Planning
As your organization continues to operate, infrastructure monitoring processes will provide a strong idea about which areas of your network to improve.
How Software Managed Services Help the Digital Transformation of Your Business
Technology has been rapidly growing and evolving in the workplace and getting more complex every year. Not to mention, with the vast majority of businesses turning to virtual solutions and many others losing their workforce in the last year and a hal...
Read More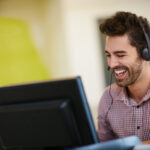 Let's Connect!
Take your business to the next level with cloud technology solutions. To get started, please fill out the form. An ETG team member will get back to you to gather additional information about your specific business goals and objectives.
(716) 406-4544
connect@emergencetek.com
"*" indicates required fields